24th Day: Saint Charles Caritas at the TJ Dumpsite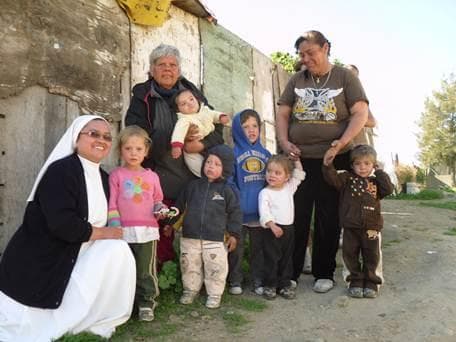 Created: 30 December, 2011
Updated: 13 September, 2023
TIJUANA, MEXICO — On the mid-morning on the Saturday before Christmas, December 24th, 2011, Saint Charles Catholic Church volunteers and friends had their Annual Charity on the Border event. The volunteers crossed the United States border to Mexico for a day of giving. This event was headed by Marilyn Baker, a Filipina American volunteer from Saint Charles Caritas.
The volunteers distributed 903 blankets, 660 little boxes of raisins, 700 tootsie pops, 726 Grandma Cookies, 744 crackerjacks, and 1440 ramen at the La Esperanza Clinic at the Tijuana dumpsite.
Saint Charles Caritas thanked those who donated blankets: Stacey Davenport (from Davenport Executive Search for Life Sciences). The company donated 480 blankets. Cursiliestas donated 34 blankets, Filipino Americans donated 50, Mary Marsh donated 10, Don Johnson, Berta Blas & family, Sacred Heart School, Ms. Islas, 7th and 8th grade students, family and teachers/staff and volunteers at St. Charles School and many more who requested to be anonymous.
The grateful recipients were the parents, grandparents and children. They were thankful and blessed on that day. They also wished the participants and donors a Merry Christmas.
Marilyn Baker, the organizer in charge said, "I want to thank Susan Guenzel and to pray for her health." Ms. Guenzel donated food for the six charities in Tijuana and goodies for the Project for the Children's Blankets.
Another donor requested to be anonymous gave La Esp-eranza Clinic a brand new refrigerator, all-in-one fax machine, telephone and surge protector. The nuns prayers from the clinic were answered.
The projects that Saint Charles Caritas is a participant of Casa de Cuna Orphanage/Disadvantaged Children; Santa Teresita Home for Girls (4-15 years old); Casa Eudes Home for Girls (6-18 years old); Asilo de Ancianos Home for the Elderly; La Esperanza Clinic Tijuana dumpsite; Adoratrices del Santisimo; fundraising to build a church; Special projects: Earmarked by donors; Project Blankets for Childrens TJ dumpsite; and Leaflets on "How to Pray the Rosary" donated by JEP.
The volunteers graciously took off for half-a-day from their Christmas commitments in San Diego. It was a good cause for those who helped the underserved communities in TJ and to visit the homes.
The commendable volunteers for the day were Arturo Fernandez, Blanca Mendez, Cecilio Salamanca, Mary Wilson, Yolanda Estrada, Regina Ong-Garcia and Diane Marg-erini. The volunteers who participated were inspired by the outcome and said, "The experience was truly rewarding."
To get more involved in other projects or donate in the future, please contact Marilyn Baker at the office at (619) 428-0199 or email her at mbaker2020@aol.com.