DeSantis Pledges to Send US Troops into Mexico as POTUS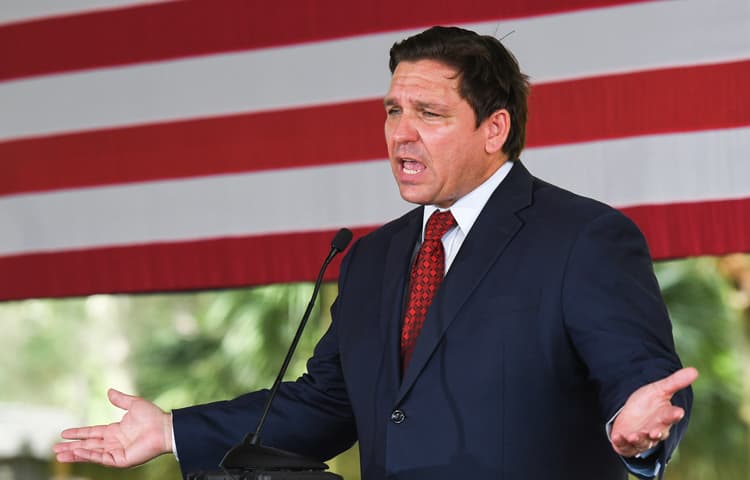 Sandra G. Leon
Created: 03 September, 2023
-
Updated:
13 September, 2023
Florida Governor Ron DeSantis has said he would send the US military into Mexico to fight the drug cartels if he is elected president in next year's elections, a threat to violate the sovereignty of our neighbor that has often been made by US officials but has not happened since President Woodrow Wilson ordered Army General John J. Pershing and 10,000 troops to hunt down Pancho Villa in 1916 in what was then-known as the "Punitive Expedition."
DeSantis, who is running in the Republican primaries against at least eight other candidates, including former President Donald Trump, said during a televised debate last week that he would send American service members into Mexico to battle the drug cartels mostly responsible for trafficking illegal drugs into the US.
"Yes, and I will do it on day one," DeSantis said during the FoxNews debate last week when asked if he would send US Special Forces service members into Mexico. "The President of the United States has got to use all available powers as commander in chief to protect our country and to protect the people. So when they're coming across, yes we're going to use lethal force, yes we reserve the right to operate," DeSantis added.
DeSantis campaign spokesman Bryan Griffin later expanded on the candidates plans.
"Ron DeSantis will declare a national emergency on day one, mobilize all military resources, declare the cartels to be narco-terrorists, and change the rules of engagement on the border," Griffin said. "The full force of the federal government will be utilized to ensure that illegal drug flow is stopped, and he will bring to bear every tool he has to this end."
The comments mirror a similar tactic used as the basis of the 1994 Harrison Ford movie 'Clear and Present Danger' where the US President authorized a covert special forces war against Columbia cartels in an attempt to claim a political victory for his re-election.
But in the real-life case of DeSantis, such a move to send American troops into a neighboring country that is now the United States' largest trading partner could cause immediate economic and political turmoil, including potential closure of border crossings, Mexican boycotts, or even seizure of American corporate and personal assets in retaliation.
The US has maintained a policy of unilateralism, preemptive war, and regime change known as the Bush Doctrine after then-US President George W. Bush who served from 2001 to 2009.
During his presidency, Bush advocated for unilateral military action against terrorist groups in Afghanistan in 2001 immediately after the September 11th attacks, as well as the invasion of Iraq to remove President Saddam Hussein.
Those military invasions into sovereign countries were carried out under the guise of anti-terrorism, and DeSantis has now referred to the drug cartels as "narco-terrorists", but those military incursions did not take place in countries with economic and social ties to the US like is the case with Mexico.
Mexico is not only the largest trading partner with the US, but also has a unique relationship in both the history of large areas of the used to be part of Mexico acquired after the Mexican-American War of 1846, but also the current connections with over 10 million Mexican-born immigrants living in the US, not including the millions of decentness of Mexican immigrants.
Former Mexican Presidents, as well as current President Andrés Manuel López Obrador, have bristled at the prospect of US military intervention into their country, even though the US has provided military assistance to combat drug trafficking for years.
Although López Obrador has provoked some anger among US law enforcement and political leaders by denying that Fentanyl is produced in Mexico, a US military incursion into a sovereign neighbor would most likely trigger a major diplocatic, economic, and social crisis, according to a former US Ambassador to Mexico.
"Mexico is our largest trading partner. We share a 2,200-mile border and we have inter-relationships that are extensive and across an entire spectrum of issues such as migration, trade, people-to-people relations and environmental concerns. I believe such action would be extremely ill-advised," said John Negroponte, who served as Ambassador to Mexico under both President George H.W. Bush and President Bill Clinton.
Donald Trump had considered firing missiles into Mexico to hit cartel targets, according to "A Sacred Oath," a memoir by Trump's former Defense Secretary, Mark Esper. Esper claims he dissuaded Trump from actually following through on his idea, but the idea of direct military action lingers among Republican leaders.
Mexico has a population of nearly 127 million people and has been one of the top US trade partners since the passage of the North American Free Trade Act (NAFTA) in 1994, and amended by President Trump to now be referred to as the United States-Mexico-Canada Agreement.
DeSantis is among nine other candidates vying for the Republican Party nomination for President, including Donald Trump, Nikki Haley, Chris Christie, Mike Pence, Vivek Ramaswamy, Tim Scott, Asa Hutchinson, Doug Burger, and Will Hurd.
Donald Trump did not attend the August 23rd debate.