New MLS Team to Play at SDSU's Snapdragon Stadium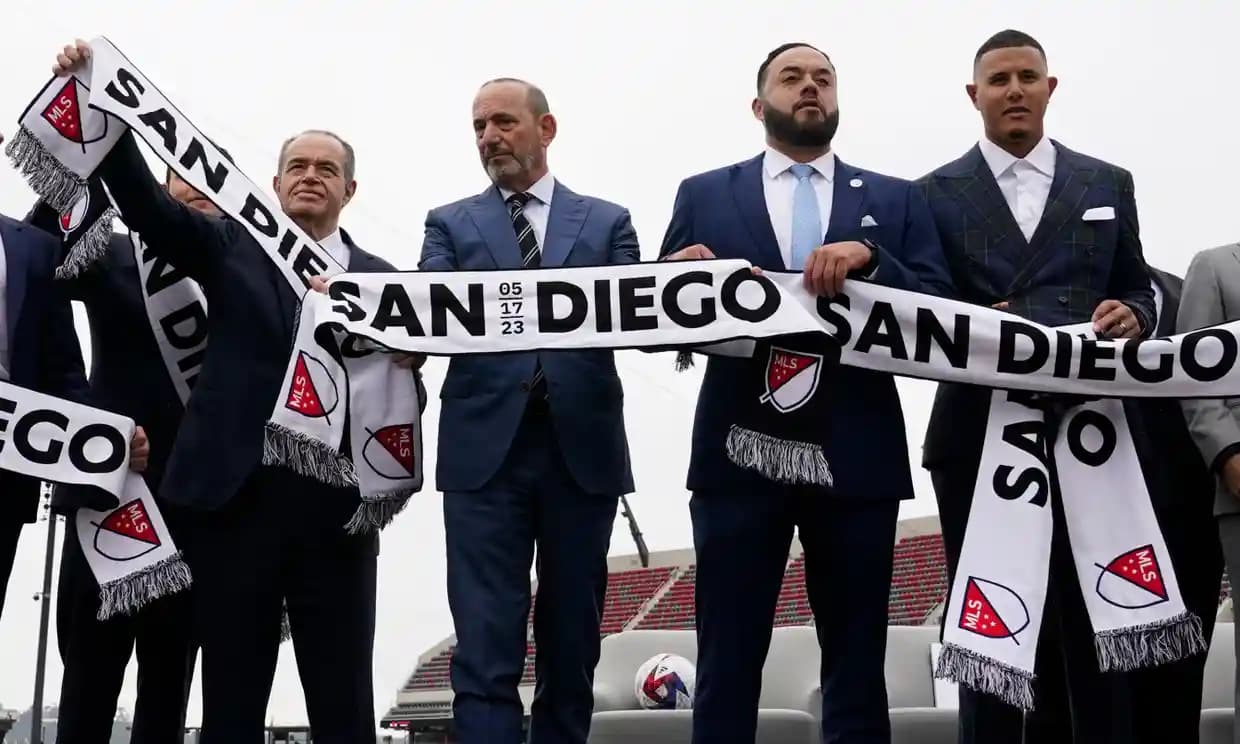 Sandra G. Leon
Created: 19 May, 2023
-
Updated:
13 September, 2023
Soccer fans in the San Diego & Tijuana megaregion have a reason to celebrate as Major League Soccer (MLS) announced this week that the 30th team franchise has been awarded to San Diego.
The new team will play at San Diego State University's new Snapdragon Stadium in Mission Valley along with SDSU's Aztec football team and the San Diego Wave women's pro soccer team.
The announcement was made yesterday during a press conference held at Snapdragon Stadium, attended by key officials from the MLS and prominent local personalities, including Padres third baseman Manny Machado who will be a minority partner in the new team.
The ownership group is headed by Egyptian-born English businessman Mohamad Mansour and San Diego's Sycuan Band of Kumeyaay Indians, as well as developer Brad Termini, among others who have committed to paying the $500 million franchise fee to the league, making it the most expensive price paid so far any of the current soccer teams.
Sycuan will now become the first tribe in the country to be a partner in a professional sports team.
San Diego's MLS franchise has yet to announce its official name, but the team's new CEO, Tom Penn, said the name will either be San Diego Fútbol Club or FC San Diego.
The arrival of Major League Soccer brings a new level of professional sports to San Diego, further elevating the city's status on the national sporting landscape. With a strong and diverse population, a vibrant soccer community, and a history of supporting successful sports teams, San Diego is primed to embrace this new chapter in its sporting journey.
MLS Commissioner Don Garber was excited to announce the new team.
"We never lost our focus, we never lost our hope in San Diego being a great MLS team and market," Garber said. "And we are here with a great ownership group, great facility and a business staff that's really going to work hard to build a terrific team in this market."
The first MLS match at Snapdragon Stadium is expected in 2025.
San Diego's Snapdragon Stadium opened late last year after replacing the aging QUALCOMM Stadium. The new facility, which currently seats 35,000 fans, could be expanded to seat more people if capacity becomes an issue.
In March, the San Diego Wave broke the National Women's Soccer League (NWSL) single-game attendance record with a crowd of 30,854 at Snapdragon Stadium.
Major League Baseball's Padres became San Diego's only major professional sports team after the National Football League's Charger moved to Los Angeles after the 2016 season. Before that, San Diego was home to the National Basketball Association's Clippers from 1978 to 1984, and previously the Rockets from 1967 to 1971.
San Diego also hosts the San Diego Gulls pro hockey team, San Diego Seals box lacrosse team, and the United Soccer League's San Diego Loyal soccer team.