PERSPECTIVE: GOP May Soon Be Fighting to Defend Hunter Biden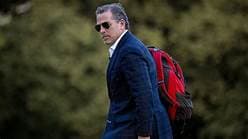 Created: 14 September, 2023
-
Updated:
15 September, 2023
By Arturo Castanares
Publisher
A special counsel appointed to investigate Hunter Biden, the youngest son of President Joe Biden, today indicted the 53-year-old lawyer on felony charges that he lied about his drug use in October 2018 when he filled out a federal form required when buying a gun.
Special Counsel David Weiss filed three charges based on one gun purchase; two counts of making false statements under penalty of perjury when Biden stated that he did not use illegal drugs, and one count of violating a federal law that prohibits illegal drug users from possessing a firearm.
The statutory punishment for the three charges could add up to 25 years in federal prison if convicted.
For the last few years, Republicans have been arguing that the Department of Justice and the FBI are political, they protect Democrats and persecute Republicans, and that the entire legal system is "rigged", but they cheered today's indictment as proof that Hunter and, by extension, his father, are involved in a wider conspiracy of corruption and wrong-doing.
But that ecstatic jubilation may soon turn into consternation as the legal defense for Hunter will surely fall in line with a common refrain from Republicans: Gun laws are sometimes too strict and take guns from non-violent Americans in violation of the 2nd Amendment.
The count filed against Hunter Biden for unlawfully possessing a firearm is Title 18, United States Code, Section 922, Subsection (g)(3) which prohibits anyone who " is an unlawful user of or addicted to any controlled substance" from possessing a firearm.
Hunter Biden clearly knew he was addicted to drugs, including crack cocaine, when he purchased the gun, so the charges are not trumped up to persecute an innocent person.
But what will be interesting is how Republicans react to the inevitable defense that this law, like several others, aims to take guns away from non-violent offenders who then lose their constitutional right to keep and bear arms for self-defense.
Just last month, the Fifth Circuit Court of Appeals, which covers Texas, Mississippi, and Louisiana, ruled that a known user of cannabis charged under the same statute as Biden could not be barred from owning a gun. The decision was written by a three-judge panel that included judges appointed by Ronald Reagan, Barack Obama, and Donald Trump, a broad political coalition of legal thought.
Although the statute was not struck down as unconstitutional, the decision falls in line with an increasingly broader protection afforded to gun owners in recent court decisions, including by the Supreme Court.
The statute Biden is charged under also bars anyone who received a dishonorable discharge from the military from possessing a firearm, regardless of the reason for their separation from the service, which could include someone who was drummed out for being gay.
A major Supreme Court decision in February has moved the goal posts for the kinds of gun regulations that can pass legal muster.
In the case of the New York State Rifle & Pistol Association v. Bruen, the Supreme Court upheld a case that struck down New York City's requirement to show proper cause to obtain a permit to carry a concealed weapon outside of your home.
The Court's decision set the standard that gun laws must be "consistent with this Nation's historical tradition of firearm regulation," meaning that only gun regulations consistent with those around when the Constitution was written are likely to survive review under the current conservative majority of the Supreme Court.
That decision was so radical that the 2018 conviction Zackey Rahimi of Arlington, Texas, was later overturned by the 5th Circuit Court of Appeals after the domestic violence abuser was sentenced to 78 months in prison for possessing a gun after his wife received a restraining order against him. The charge was the same section filed against Biden, but five paragraphs later where it specifically bars anyone "subject to a domestic relations restraining order" from possessing a firearm.
The 5th Circuit Court ruled that there is no historical analog to firearm restrictions on domestic abusers, so the same could be said about drug users.
Prosecutors have petitioned the Supreme Court to review the Rahimi case. If the Court turns it down, the decision to overturn the conviction will stand but only within the 5th Circuit. If the Court takes it up, however, its decision will have national implications for gun laws restricting certain people, including drug users like Hunter Biden, from possessing guns.
The Biden case may have started as a political game to put pressure on the current president and his family, but the result may be that Hunter Biden not only wins his case but becomes an unlikely ally of Republicans who argue both that gun laws should be relaxed and that Hunter Biden's charges are justified.
Both cannot be true.
Republicans may soon be faced with having to agree that Biden's gun charge should be dropped; surely a painful position to have to be in for those that would love to see a Biden convicted of something.
The old adage that politics makes for strange bedfellows couldn't be more true in this case.