SD Congressmembers Ask for $310M for TJ River Sewage Problems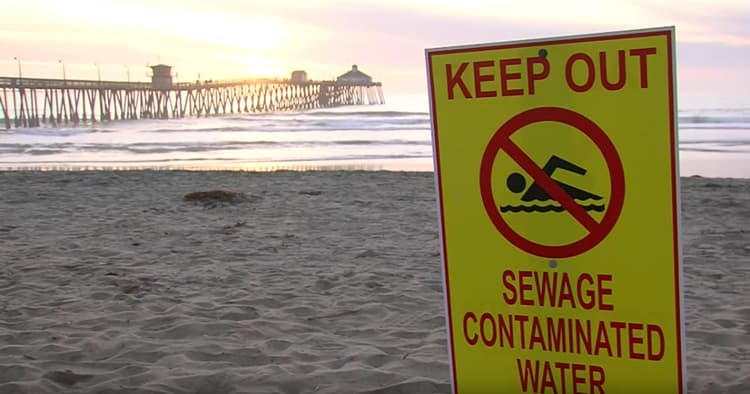 Sandra G. Leon
Created: 06 September, 2023
Updated: 13 September, 2023
Congressman Scott Peters and the other Democratic members of San Diego's congressional delegation signed a letter to the House leadership to add over $300 million in new funding to help mitigate raw sewage flowing into San Diego from Mexico.
The letter, sent from Peters and also signed by Congressman Juan Vargas, Congressman Mike Levin, and Congresswoman Sara Jacobs, requests $310 million be included in an upcoming emergency supplemental bill being drafted by Speaker Kevin McCarthy's office.
"We write to urgently request $310 million for the South Bay International Wastewater Treatment Plant (SBIWTP) in the upcoming emergency supplemental," the letter reads. "Hurricane Hilary dramatically increased the flow of untreated wastewater from the Tijuana River Valley through SBIWTP and onto San Diego's coastline and into coastal waters. In fact, last week the treatment plant completely failed causing raw sewage to rush onto streets and to seep into canyons and neighborhoods in San Diego County."
California's two Senators, Dianne Feinstein and Alex Padilla, sent a similar letter to Senate leadership last week asking for the same funding.
Although $300 million were earmarked for an expansion of the capacity of the treatment plant in the 2021 approval of the in the United States- Mexico-Canada Agreement, the plant was found to need before before it can de expanded.
"Years of underinvestment have left SBIWTP in dire need of emergency repairs and expansion to treat increased flows resulting from extreme weather events, such as Hurricane Hilary, and population growth in the region. Securing emergency funding is crucial to rehabilitate and expand the plant in order to protect public health and the environment, and to stop the economic damage cross-border sewage flows have had on our communities for far too long," the letter concludes.
The letter also outlines how coastal cities in San Diego County, primarily Imperial Beach and Coronado, have been closed extensively during the past two summers due to dangerous contamination from the raw sewage leaks.
The Congressmembers also called attention to the fact that the US Naval Special Warfare Command located in Coronado often has to move ocean training events for SEAL team inductees to different locations in Southern California to avoid swimming in contaminated waters.
Congressman Peters also recently sent letters to the Office of Management and Budget (OMB) and to US State Department to request urgent additional funding to address the flow of sewage from Mexico.
In June of this year, the San Diego Congressional members also sent a letter to the Governor of Baja California urging the Mexican government to address their wastewater treatment infrastructure to prevent raw sewage from spilling across the border.
Peters' letter was addressed to House Speaker Kevin McCarthy (R-CA-20), House Democratic Leader Hakeem Jeffries (D-NY-8), Appropriations Committee Chairwoman Kay Granger (R-TX-12), and Appropriations Committee Ranking Member Rosa DeLauro (D-CT-3).
The House will be taking up a proposed emergency supplemental funding bill. Any such proposal would have to pass both houses of Congress and be signed into law by President Joe Biden.