No Republicans Remain in SD City Elected Leadership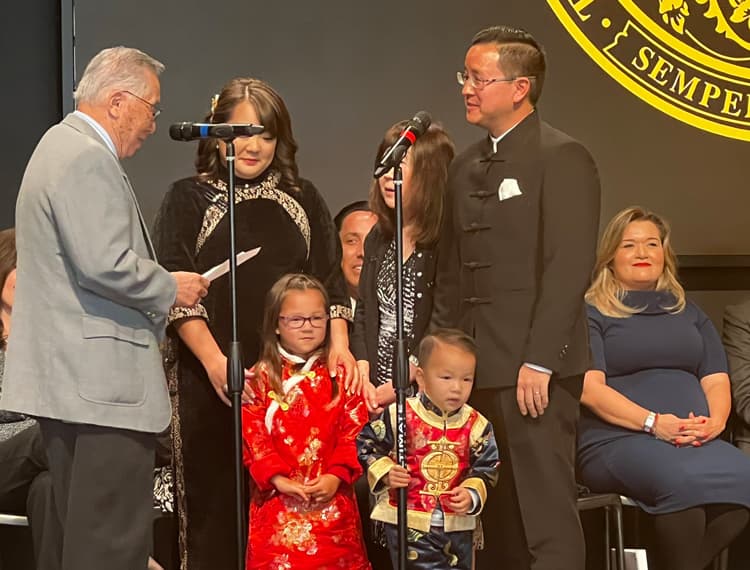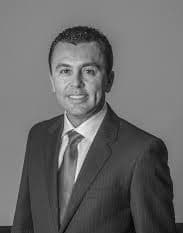 Arturo Castañares
Created: 12 December, 2022
Updated: 13 September, 2023
New Councilman Kent Lee, sworn-in by former Councilman Tom Hom.
For the first time ever, all of the City of San Diego's elected officials are Democrats after a new Councilman was sworn-in Monday morning to replace the last remaining Republican in office.
With the election last month of Kent Lee to represent the 6th Council District, the City Council now has only Democrats on its nine member board. Lee replaced termed-out Republican Councilman Chris Cate.
Lee was sworn-in by Tom Hom, a longtime community leaders who became the first Asian and also the first person of color to serve on the Council when he was elected in 1963.
"We can and we must do better," Lee said after being taking the oath of office. "Our message connected resoundingly with voters. It is my honor to follow in your footsteps," he said, referring to Hom.
Democrat Mayor Todd Gloria and Democrat City Attorney Mara Elliot are the only leaders elected by all voters in the City. Gloria was elected in 2020 and Elliott was first elected in 2016 then re-elected for a final term in 2020.
Besides Lee, the other Democrats on the Council are Dr. Jen Campbell, Monica Montgomery Steppe, and Vivian Moreno, who were re-elected to second terms last month; and Sean Elo-Rivera, who serves as the Council President, Joe LaCava, Raul Campillo, Stephen Whitburn, and Marni von Wilbert who were elected in 2020.
Just a few years ago, however, the Council was heavily Republican when Mayor Kevin Faulconer, and Councilmembers Mark Kersey, Scott Sherman, Lori Zapf, and Cate all served together.
But, over the past 20 years, the demographics and Party registration preferences in the City have changed to where Democrats now outnumber Republicans by more than two to one and voter turnout heavily favors Democrats.
According to the most current voter registration report by the County Registrar of Voters, there are 377,012 Democrats, but only 165,867 Republicans in the City, with an additional 206,512 voters registered as "Decline-to-State" or non-partisan.
When looking at each Council district, however, the Party disparity is sometimes greater, even though each district is drawn to include roughly the same amount of residents without reference to Party registration.
For example, Sean Elo-Rivera's District 9, which includes the communities of Rolando, Mt. Hope, Kensington, and the College area, has nearly four times as many Democrats as Republicans, with 40,728 Democrats but only 10,325 Republicans, representing an almost four to one advantage.
Similarly, Vivian Moreno's 8th District, which includes the areas of Barrio Logan, San Ysidro, and Otay Mesa, has 40,587 Democrats compared to only 12,428 Republicans.
The district with the closest Party registration is Marni von Wilpert's District 5, covering the communities of Rancho Bernardo, Scripps Ranch, and Carmel Mountain, which has 39,539 Democrats and 30,205 Republicans.
Before von Wilbert was elected in 2020, District 5 was represented exclusively by Republicans, including Mark Kersey, Carl DeMaio, Brian Maienschein, and Barbara Warden.
Councilmembers are elected by voters in their respective districts, but do not run citywide. Prior to 1989, City Council candidates ran within their districts in Primary Elections, then the top two vote-getters ran citywide in the General Election.
Although Democrats have outnumbered Republicans in the City by a growing number during the past 20 years, voter turnout favored GOP candidates for many years.
Still, the City saw several Democratic mayors elected during times when Republican voters dominated local elections.
Democrat Bob Filner, who had served in Congress for nearly 20 years, was elected Mayor in 2012 by defeating then-Councilman Carl DeMaio.
But, Filner would only serve nine months in office before resigning over allegations of sexual harassment. Filner later pled guilty to charges of false imprisonment and battery.
Before Filner's election, a string of Republicans held the Mayor's office for 20 years, including Jerry Sanders, Dick Murphy, and Susan Golding. Golding led the efforts to bring the 1996 Republican National Convention to San Diego.
The last Democrat to have been elected Mayor when voter registration still favored Republicans was Maureen O'Conner, who served two terms from 1986 to 1992. O'Conner was the first of only two women (including Golding) elected Mayor of San Diego.
O'Conner was on the City Council in 1985 when Republican Mayor Roger Hedgecock was convicted of perjury and conspiracy charges in a campaign corruption scandal. Hedgecock had been charged for accepting over $350,000 in illegal campaign contributions in his 1983 campaign against O'Conner.
Upon his conviction, Hedgecock resigned and O'Conner won a special election to replace him, and she was later re-elected in 1987.
Two other notable Democratic Mayors were Frank Curren, who served from 1963 to 1971, and his predecessor, Charles C. Dail, who served from 1955 to 1963.
Curren championed the sale of bonds that built Jack Murphy Stadium and a new citywide sewer system. The City's Administration Building complex was later named after Dail.
In total, only 11 of 37 Mayors of San Diego since 1850 have been Democrats, compared to 24 Republicans, 4 Independents, and 2 smaller Party candidates.
David Brower Kurtz, who served in 1851 and 1852, was a Whig, and another, William Jefferson "Will" Hunsaker, who only served from January to November 1888, was a member of the Workingmen's Party of California, a small labor organization Party that fielded candidates from 1877 to 1883.