Gordon Ramsay's New Hell's Kitchen Brings Flaming Dishes to San Diego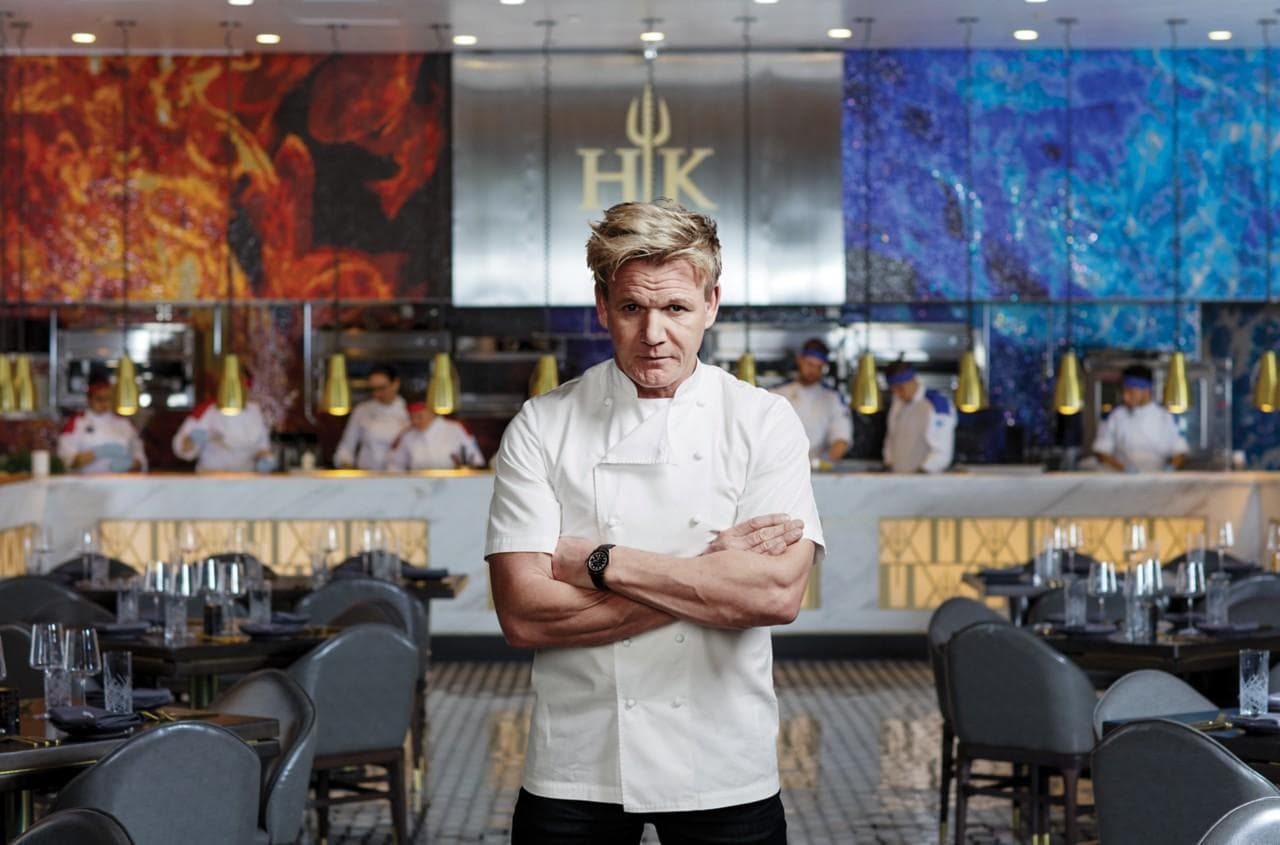 Created: 15 August, 2022
-
Updated:
13 September, 2023
Flames are burning and mouths are watering. This week, celebrity chef Gordon Ramsay is bringing more than his emblematic bronze pitchfork to the West Coast: the first Hell's Kitchen restaurant in California.
Taking after the FOX cooking competition of the same name, the newest addition to Harrah's Resort SoCal will be setting dining expectations ablaze starting this Friday, Aug. 12 at the public opening.
Measured at a generous 11,360 square feet with room for 332 people, the new location is the first in the state and the largest out of the three other HK restaurants found in Lake Tahoe, Las Vegas and Dubai.
In true HK nature, the restaurant's cooking area is divided into a red kitchen and a blue one, with cooks sporting attire of their corresponding team's color similar to the show, which is returning to FOX on Sept. 29 for its 21st season.
To get there, guests have to walk through the entrance, a walkway decorated with a gallery of photos displaying past winners, merchandise and a digital screen playing a welcome video by Gordon Ramsay. Once visitors are past the first space, an elevated bar is found on the left, along with the exhibition kitchen in the back, a lounge, curated wine wall and cellar, two private dining rooms and two chef's tables.
As far as the a la carte menu goes, Hell's Kitchen wouldn't be complete without the Michelin-starred Ramsay's signature dishes seen on the show including the beef Wellington, pan seared scallops, crispy skin salmon and sticky toffee pudding, a dulce de leche dessert made from Ramsay's mother's recipe.
A fixed price menu with three courses has a price tag of $98.95 per person which can be paired with wine for an additional cost. Vegetarian options range from a truffle risotto to wild mushrooms and glazed root vegetables.
For sips, signature cocktails include Notes from Gordon made with plymouth dry gin, green tea, lemongrass, peach and lemon, as well as the Pitchfork, with bulleit bourbon, giffard pamplemousse, fonseca 10-year tawny, lemon, egg white and other drinks.
While Ramsay was out of the country and unable to attend this week's media preview, La Prensa San Diego was able to experience the space and talk with chef Christina Wilson, the Hell's Kitchen season 10 winner and vice president of culinary for Gordon Ramsay North America.
Wilson, who's also a sous chef in the red kitchen for HK's season 21, has worked with Ramsay for a decade now. She says the ideas behind dishes for the restaurants come from a mix of places — the show and even food posts on Instagram and Whatsapp messages she receives from Ramsay during his travels.
"We'll actually trial dishes for the restaurant during the season," Wilson said at Tuesday's preview. "When they end up in the restaurant, there's already a tie to the show and people feel closer not only to them, the show and the competition, but to Gordon."
It took years of working alongside the culinary legend for Wilson to know Ramsay's style, taste and even his preferred spoon and knife placement, she shared jokingly. She said it's a great feeling to be the one he calls for in the kitchen, although the thought of that was "terrifying" years back.
Bragging rights aside, Wilson is honored to open the newest restaurant in Funner, just an hour away from San Diego, one of the largest cities in California. More specifically, she's touched that young and aspiring chefs in the region will have a place to learn and perfect their culinary crafts.
"To be able to establish a bit of a mentorship or development program and really grow our next generation of chefs…that's where I get filled up," Wilson said proudly.
Hell's Kitchen at Harrah's Resort Southern California is located at 777 S. Resort Drive, Valley Center and is open from 4 p.m. to 10 p.m. Sundays to Thursdays and from 4 p.m. to 11 p.m. Fridays to Saturdays.
Reservations can be made at harrahssocal.com or on Open Table.
See the Hell's Kitchen menu here.