L'ATTITUDE Brings Largest Latino-focused Event to San Diego for the Fifth Year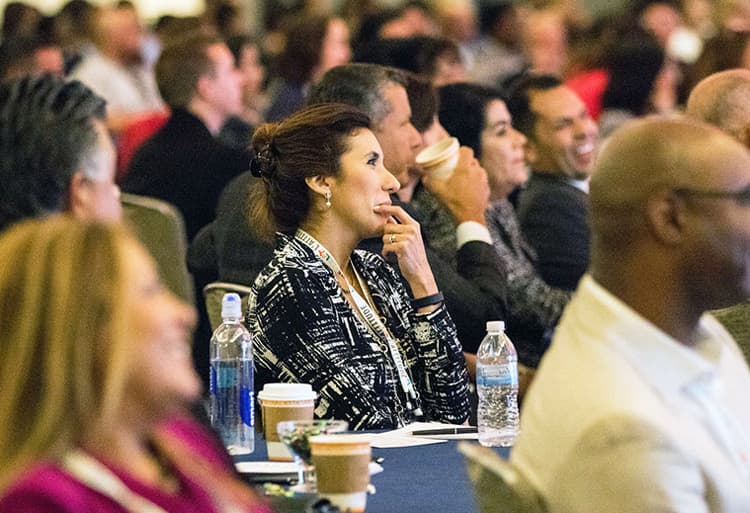 Created: 23 September, 2022
-
Updated:
13 September, 2023
The Latino community is taking the City by storm starting Thursday at San Diego's Fifth Annual L'Attitude conference — the largest Latino-led conference highlighting U.S. Latinos in business, media, politics, sports, science and tech.
Hosted at the Grand Hyatt from Thursday to Sunday, L'Attitude will present a series of panels and sessions led by speakers including former President Barack Obama — who is to headline the conference with an in-person Q&A session Sunday -— composer and actor Lin-Manuel Miranda, Emilio and Gloria Estefan, and U.S. Senator Alex Padilla.
In addition to L'Attitude Co-Founders Sol Trujillo and Gary Acosta, presidents and CEOs of big name brands like NIKE (John Donahoe), Sony Pictures (Tony Vinciquerra), Target (Brian Cornell), Nielsen (David Kenny) and others will also join the event.
This marks the fifth year the four-day event comes to life, with tickets starting at a hefty $800 for same-day registration. Last year, visitors totaled 3,200 and event organizers expect that number to double this year according to the San Diego Union-Tribune.
The project is led by Trujillo, (pictured below) an international business executive and chairman of the Latino Donor Collaborative (LDC), and Acosta, co-founder of the​​ National Association of Hispanic Real Estate Professionals (NAHREP), a sponsor of the event.
A highly anticipated program this year includes LATINXT which was launched at the 2018 conference by actress Zoe Saldana, filmmaker Robert Rodriguez and Lin Manuel Miranda to showcase up-and-coming U.S. Latino talent in TV and film. In 2020, Emilio Estefan joined as a partner to L'Attitude and LATINXT to bring a focus to music in the program.
Match-Up, a competitive program by L'Attitude Ventures (LAT VC) where Latino start-ups pitch their companies in the hopes of winning the Latino Start-Up of the Year award is also on the agenda. Companies will also win investment funding.
Nopalera, a Mexican soap and skincare line founded by San Diego native Sandra Velasquez in 2019, won Thursday's competition and is now eligible to compete in Saturday's final match-up competition. Velasquez told La Prensa she is so humbled to have won.
"I was honestly not expecting it," Velasquez shared. "As a bootstrapped founder who was also a beauty industry outsider, I have been working really hard to put myself in new rooms with people that can help us scale. This is a major milestone for our future growth and I am so grateful to the L'Attitude team and Visa for this award."
On Friday, the 2022 State of Hispanic Wealth Report was released by NAHREP and the Hispanic Wealth Project (HWP). The 2022 U.S. Latino GDP Report was also released, an initiative by LDC, a non-profit organization that "creates original economic research about the Latino/Hispanic community in the U.S."
The LDC report found that 2020 U.S. Latino GDP total economic output of Latinos in the United States was $2.8 trillion up from $2.1 trillion in 2015.
It also pointed out that if Latinos living in the United States were an independent country, the U.S. Latino GDP would be the fifth largest GDP in the world, larger than the GDPs of the United Kingdom, India or France.
"We find that the economic data published in this report honor the sacrifices made by Latinos and illustrate just how remarkable Latino strength and resilience really is," the report reads.
"It also highlights just how much the broader U.S. economy benefited from that strength during the pandemic. Latinos were a critical source of resilience, not just for their own families and communities, but for the U.S. economy as a whole."
More information about L'ATTITUDE 2022 can be found at www.lattitude.net