Newsom Vetos Bills on Marijuana Lounges & Psychedelic Mushrooms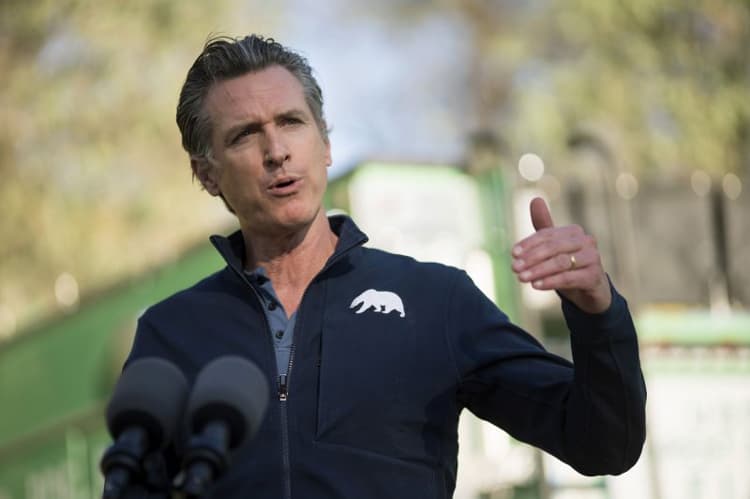 Created: 08 October, 2023
-
Updated:
08 November, 2023
(Pictured: Gavin Newsom. Photo by Eric Thayer/UPI)
By Arturo Castañares
Editor-at-Large
California Governor Gavin Newsom today vetoed a proposed new law that would have allowed licensed marijuana dispensaries to sell food and host live concerts while using cannabis products onsite as well as another bill that would have decriminalized "magic mushrooms."
The legislation, Assembly Bill 374 by Assemblyman Matt Haney (D-San Francisco) would have allowed dispensaries to sell food and coffee like cafes in Amsterdam do.
Current state law allowed the consumption of cannabis products at dispensaries but bans the sale of food and coffee.
Supporters of the proposal argue that expanding the services offered by licensed cannabis dispensaries would allow them to better compete with illegal marijuana sales conducted in unlicensed and untaxed locations.
"It's really about fairness and supporting businesses that follow the rules," Assemblyman Haney said. "If we keep allowing unnecessary regulations to strangle California's legal cannabis businesses, we're just encouraging illegal drug sals and all of the problems that come with that," he added.
Governor Newsom issued a veto message that argued that the bill could have undermined the state's smoke-free workplace laws that protect restaurant employees, but that he "appreciates the author's intent to provide cannabis retailers with increased business opportunities."
In 2016, California voters approved Proposition 64 which legalized the use of marijuana inside of licensed dispensaries, but pot smoking is still banned outside in public, within apartment complexes, and even inside of cars.
Marijuana sales within licensed dispensaries were approximately $4 billion, while experts estimate that illegal sales topped $8 billion.
Newsom also vetoes Senate Bill 58 by Senator Scott Weiner (D-San Francisco) which sought to decriminalized the possession and personal use of a short list of natural psychedelics, including "magic mushrooms."
"California should immediately begin work to set up regulated treatment guidelines — replete with dosing information, therapeutic guidelines, rules to prevent against exploitation during guided treatments, and medical clearance of no underlying psychoses. Unfortunately, this bill would decriminalize possession prior to these guidelines going into place, and I cannot sign it," Newsom said in his veto statement.
The bill's author promised to reintroduce the measure next year.
"This is a setback for the huge number of Californians — including combat veterans and first responders — who are safely using and benefiting from these non-addictive substances and who will now continue to be classified as criminals under California law," Senator Wiener said. "Today's veto is a huge missed opportunity for California to follow the science and lead."