Outspoken Former Congresswoman Tulsi Gabbard Visits San Diego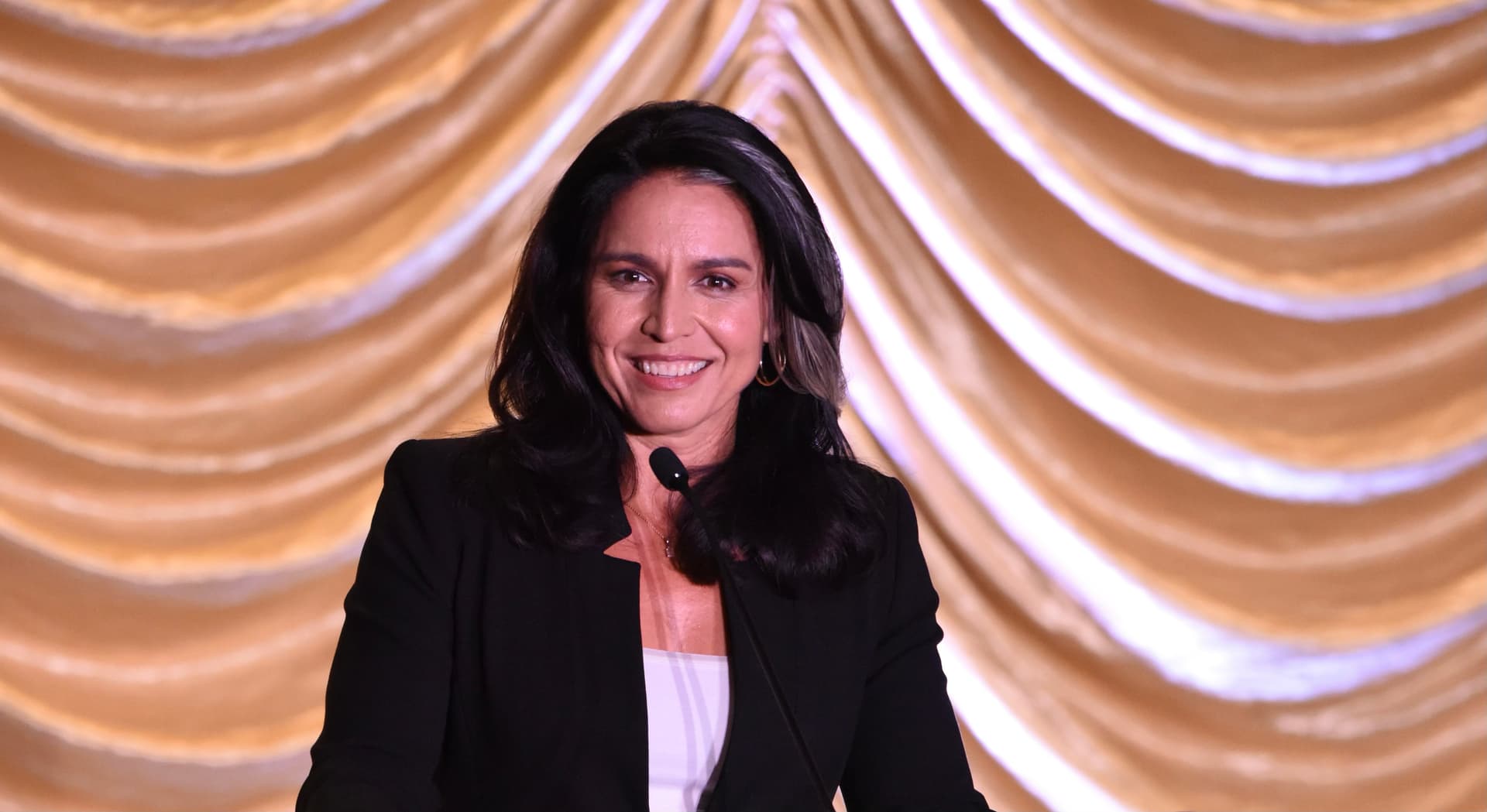 Created: 13 November, 2023
-
Updated:
16 November, 2023
By Arturo Castañares
Editor-at-Large
Former Democratic presidential candidate and congresswoman from Hawaii, Tulsi Gabbard, stopped in San Diego Friday to deliver a keynote speech as she continues making controversial comments about the Democratic Party and calls for bipartisan cooperation to deal with the biggest issues facing the US.
Gabbard, who served in the US House of Representatives as one of Hawaii's two Congress members from 2013 to 2021 and ran in the Democratic Party primary elections for president in 2020, has become a polarizing figure for her recent support of Republicans and comments criticizing US foreign policy toward military action.
In October of last year, Gabbard dropped her Democratic Party affiliation and now describes herself as "independent."
Gabbard spoke exclusively with La Prensa San Diego before the event Friday and described the reasons why she left the Democratic Party, which she said she doesn't "recognize" from the Party she joined when she turned 21 years old.
"I don't recognize the Democratic Party anymore," she said, referring to the Party's focus on winning elections instead of working with Republicans to solve tough issues facing the country.
Gabbard described how, as a newly elected Congress member in 2013, she was instructed not to work with Republicans, especially those in swing districts where Democrats would be competitive in the next election.
Instead of heeding that advice, Gabbard says she asked her mom to make her famous Macadamia nut toffee as a gift for all 435 members of Congress, and another 435 larger packages for each congressional office, and Gabbard included a handwritten note to each member to introduce herself to her new colleagues.
"The response was pretty quick," Gabbard said of her colleagues' responses, saying several members approached her asking "what's going on in your district, tell me what issues you're most concerned about, let's find a way to work together," Gabbard said.
During her speech, Gabbard said she joined the Democratic Party when she was 21 years old because it was "the Party of working people, the Party that stood up for everyone's right to free speech, everyone to live out that American dream to pursue life, liberty, and happiness," Gabbard said.
"Fast forward to today's Democrat Party, it is a Party that is standing in direct opposition to those fundamental principles and values that we're talking about, of freedom, of independent thought, of free speech," Gabbard asserted.
Gabbard decided not to seek re-election in 2020 as she ran in the primaries as one of 29 Democrats who launched presidential campaigns, including Joe Biden, Bernie Sanders, Elizabeth Warren, Pete Buttigieg, Amy Klobuchar, and Kamala Harris.
Gabbard ended her campaign on March 3rd after winning two delegates in American Samoa where she was born, but failed to win any other delegates through Super Tuesday after 18 states had cast votes.
At the time she withdrew and endorsed Joe Biden, Gabbard was the last woman remaining in the primary field and her exit left only Bernie Sanders and Joe Biden. Sanders dropped his campaign three weeks later and also endorsed Biden.
Gabbard said that she was booed during her presidential campaign when she challenged the Party's positions on issues when she said she wanted the Party to return to "the Party of JFK".
"This Party, or at least those who were leading it, were not interested in change, they were not interested in being the voice of the people, they were interested in power," Gabbard said. "And ultimately that's what led me to leave the Democratic Party now a year ago, because how can we as a people trust a political party, or those leading it, to uphold the oath to the Constitution that every one of us swore to do when they don't believe in freedom," she asked rhetorically.
Critics have challenged Gabbard on comments she has made about the US and NATO triggering Russia's invasion of Ukraine by encouraging and supporting countries neighboring Russia to join NATO, but she did not reference foreign affairs during her speech.
Gabbard, who currently holds the rank of Lt. Colonel in the US Army Reserves after having served in the Hawaii Army National Guard since 2003, was deployed in Iraq for 12 months beginning in July 2004 and later served as a military police officer in Kuwait in 2008 through 2009.
On Friday, Gabbard was hosted by the San Diego Lincoln Club, a group of local business leaders who have traditionally supported Republican candidates, but in recent elections have endorsed and supported Democrats, including Janessa Goldbeck who ran to replace County Supervisor Nathan Fletcher; Bart Miesfeld, a candidate for Chula Vista City Attorney; and San Diego City Councilman Stephen Whitburn in his current re-election campaign.
In recent months, several local Democrats have attended Lincoln Club meetings, including San Diego City Councilmembers Marni von Wilpert and Monica Montgomery Steppe.
The Lincoln Club's Executive Director, Victor Lopez, explained their decision to host Gabbard as an opportunity to hear from diverse voices who can help provide a broader discussion on important issues.
"We can't only listen to voices we already agree with and limit ourselves from hearing other views that may help us better understand important issues," Lopez said after the event. "Congresswoman Gabbard is not only a prominent figure in national politics, but also a voice that challenges the status quo so, it's crucial to listen to and understand the depth and insight others bring to the table," Lopez emphasized.
Most recently, Gabbard has been labeled as a Putin sympathizer over her comments criticizing the US when she said sanctions against Russia over its invasion of Ukraine would hurt American and European consumers through higher gas prices, and comments where she blamed President Joe Biden for not preventing the war in Ukraine by agreeing to Vladimir Putin's demands that Ukraine never join NATO.
Gabbard has consistently been opposed to unilateral military intervention she calls "wasteful foreign wars" that she maintains have not made Americans safer, and refers to herself as a "hawk" when it comes to fighting terrorists but a "dove" when it comes to "counterproductive wars of regime change."
Her father, Mike Gabbard, spearheaded a movement in the early 1990s to oppose same-sex marriages and, in 1998, helped pass a state constitutional amendment ballot initiative in Hawaii to allow the Legislature to "reserve marriage to opposite-sex couples."
Early in her political career, Gabbard also defended marriage as being only between a man and a woman, but later evolved her views to support gay rights and joined the House LGBT Equality Caucus. She supported same-sex marriage during her tenure in Congress and received ratings of 92%, 88%, 100%, and 84% for her four congressional terms for pro-LGBT legislation from the Human Rights Campaign.
Gabbard was first elected to public office in 2002 when she won a seat in the Hawaii State Legislature at 21 years old, becoming the youngest legislator ever elected in Hawaii's history, and the youngest woman ever elected to a state legislature.
Instead of running for a second term in the Legislature, Gabbard volunteered for a military deployment to Iraq in 2004 and was later deployed to Kuwait in 2008.
It was during her deployment in Iraq that a tuft of her hair at the front of her head turned white, and she now refuses to dye it in memory of her service and that of fallen service members who died in Iraq.
Gabbard was later elected to the Honolulu City Council in November 2010 before running for Congress in 2012 when three-term Congresswoman Mazie Hirono decided not to seek re-election as she instead ran for the US Senate.
Gabbard resigned from her City Council seat after winning the Primary Election for Congress which allowed her City Council seat to be filled during the November election.
During her campaign for Congress, Gabbard spoke at the Democratic Party convention in September 2012 where Minority Leader Nancy Pelosi called her "an emerging star."
While serving four terms in Congress, Gabbard introduced several bills that were passed and signed into law, including improved airport security screenings for severely wounded veterans, awarding the Congressional Gold Medal to Filipinos and Filipino American veterans who had fought in World War II, and Talia's Law to help prevent child abuse and neglect on military bases.
Since leaving office, Gabbard has been a frequent guest on conservative news programs and has spoken before political and civic groups, including being featured at last year's Conservative Political Action Conference, the Center of the American Experiment's fall briefing, and the Mahoning County, Ohio Republican Party's Lincoln Day event March.
La Prensa San Diego has previously conducted other one-on-one interviews with prominent national and international figures, including Vermont US Senator Bernie Sanders during the 2016 elections, civil rights icon Dolores Huerta, Homeland Security Secretary Alejandro Mayorkas, and attended a small media availability with the Dalai Lama in San Diego.