"Jamuligan" Running for CV Mayor Contradicts Himself on Residency Issues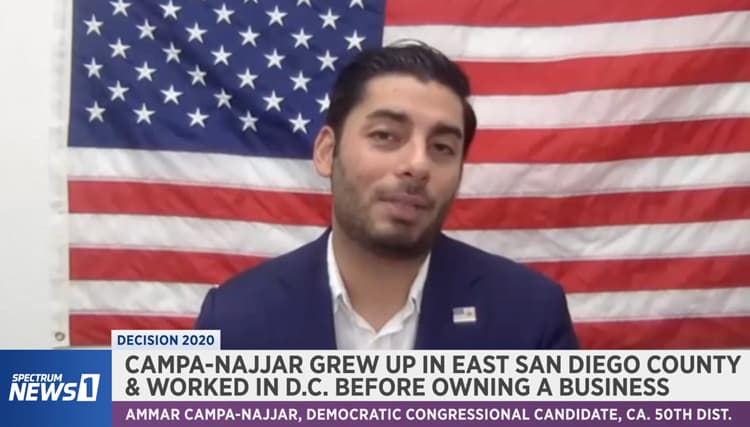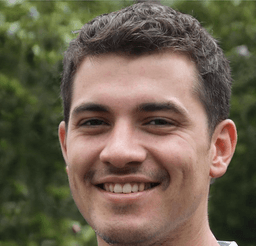 Alberto Garcia
Created: 22 Octuber, 2022
Updated: 13 September, 2023
A Chula Vista mayoral candidate created more questions over his residency just two weeks before the election after he sent out documents he hoped would help prove he lives in the City he is running to lead, but instead led a former mayor to endorse his opponent.
Ammar Campa-Najjar, 34, contradicted his own previous statements about where he has lived when he sent out documents to help answer questions about his residency after his opponent, Councilman John McCann, alleged Campa-Najjar has been living in San Diego.
Ammar Campa-Najjar,
picture from his website
www.campacampaign.com
McCann, 54, hired a former FBI agent to research where Campa-Najjar has been living, and later released videos and pictures of the candidate spending over 30 consecutive nights at a San Diego condo owned by his girlfriend, Congresswoman Sara Jacobs.
Sara Jacobs,


picture from her website
www.sarajacobs.house.gov
Campa-Najjar and Jacobs met in early 2018 when they were both candidates for Congress in neighboring districts. Although they both lost their campaigns that year, Jacobs moved into another district and won her 2020 campaign for the 52nd Congressional District.
Two sources who know the couple have confirmed that Campa-Najjar has been living in her condo since last year.
Jacobs is the granddaughter of QUALCOMM Co-Founder Dr. Irwin Jacobs.
The investigator released pictures of recent mail and packages addressed to Campa-Najjar at Jacobs' condo on 5th Avenue near downtown San Diego, and of Campa-Najjar driving a Tesla sedan owned by Jacobs back and forth to the her condo nearly everyday.
Campa-Najjar was recorded living at Jacobs' condo even when she was in Washington, DC for her congressional work, although he claimed he has been living in Chula Vista where he is now registered to vote.
State and local elections laws require candidates for City offices to live within the City, as well as where they are registered to vote. Violations of elections laws could be charged as felonies, as has happened in Los Angeles in recent years.
Not living in Chula Vista while running for Mayor seemed to be an existential threat to his candidacy.
In response to the allegations, Campa-Najjar sent out documents last week to several political figures involved in South Bay politics, including former Chula Vista Mayor Cheryl Cox, in hopes of putting the questions about his residency to rest.
"Ammar contacted me asking if releasing these documents would help or hurt his campaign and asking for my endorsement," Cox told La Prensa San Diego this week. "None of the documents definitely prove where he lives, but, instead, raised many more questions for me about his truthfulness based on previous claims he made while running for Congress," Cox added.
Dr. Cheryl Cox,
Chula Vista Mayor
2006-2014
The day after she reviewed the documents, Cox responded to Campa-Najjar to tell him she decided to endorse McCann's campaign for Mayor.
"John McCann and I may have had our differences when we served together on the City Council, but I know his heart is in serving our community and that he is a long-term vested resident of Chula Vista," Cox said. "Unfortunately, the fact that Ammar has said so many different things to so many different people raises serious concerns for me about his ability to lead our great city," Cox added.
Cox, a career teacher and school administrator, served as Mayor of Chula Vista from 2006 to 2014, and previously served on the Chula Vista Elementary School District Board of Trustees. During her work as a school district administrator, Cox lead the department that reviewed documents submitted for students' residency eligibility.
Own Documents Hurt His Case
The documents Campa-Najjar sent to Cox included old W2 tax forms from 2006 and 2008, a high school report card from 2007, a report card from Southwestern College from 2013, and a recent state tax refund check.
Campa-Najjar also included pictures of two of his California driver's licenses; one valid through February 2019, and his subsequent one valid through February 2024.
His current driver's license has "FEDERAL LIMITS APPLY" stamped at the top right corner. That designation limits the use of the ID from being accepted when boarding airlines or entering secure federal buildings because Campa-Najjar did not provide acceptable proof of residency as required by the DMV under new federal RealID requirements.
Most of the documents, including his high school diploma, W2 forms, and his earlier driver's license show his name as Ammar Yasser Najjar, before he legally changed his name to Ammar Joseph Campa-Najjar in 2018.
Additionally, the SDG&E bills Campa-Najjar sent out to help prove his residency show him as the secondary "co-applicant", with the primary account holder is listed as Angelica Brock.
Brock, whose maiden name is Campa, is another relative of Campa-Najjar. Brock and her husband own a home in the San Diego community of Paradise Hills, but their daughter attended Eastlake High School through 2019 using the Eastlake address for school eligibility.
There is no evidence that Brock, her husband, or daughter lived or live at the Eastlake condo.
Brock is registered to vote at her Paradise Hills address in San Diego, and this month completed a refinancing of her San Diego home as her primary residence.
But Campa-Najjar provided a "Service Verification" letter from SDG&E dated October 4, 2022, showing Angelica Brock as the current account holder, and Campa-Najjar as a "Co-Applicant" added to the account on December 9, 2021, more than a year after he lost his 2020 campaign for Congress, but just three months before filing to run for Chula Vista Mayor.
When asked about Brock's relation to the address, Campa-Najjar refused to answer questions on the record.
Campa-Najjar also provided past SDG&E bills which included inconsistent details.
The most recent bill Campa-Najjar provided is for the period of September 5 to October 7, 2022. That bill shows that electricity usage for that address was zero for the months of October to December 2021, and January to May 2022, before spiking back up to normal usage beginning in June. His name appears as the secondary customer name.
Picture provided by
Ammar Campa-Najjar
But three earlier bills Campa-Najjar provided for the months of December 2021, January 2022, and February 2022 each show energy usage, which is not consistent with the current bill showing no historical usage for those months.
Also, the secondary customer on the three earlier bills shows Campa-Najjar's last name misspelled as "Kampa Najjar". None of the other SDG&E documents besides these three bills show his name incorrectly spelled.
SDG&E bill provided
by Campa-Najjar
I'm a Jamuligan
But when Campa-Najjar ran unsuccessfully for Congress in the East County's 50th District in the 2018 and 2020 elections, he used his mother's address in Jamul as his home where he claimed, at the time, he had grown up, contradicting all of the documents he sent out this week.
Campa-Najjar used his mother's Jamul home as his official voting address and voted four times in 2018 and 2020 using that address.
In fact, Campa-Najjar used a much different narrative during the five years he was a congressional candidate, emphasizing his East County roots and not once referring to growing up in Chula Vista as he campaigned in Temecula, Ramona, El Cajon, Santee, and Jamul wearing cowboy boots and a silver belt buckle decorated with gold bull horns.
Ammar Campa-Najjar
campaigning in Temecula, 2018


Photograph by Ariana Drehsler / Redux

,
NewYorker.com
Campa-Najjar, who was born in La Mesa, proudly proclaimed himself a "Jamuligan", a slang term for locals who grew up in the rural East County community of Jamul during an interview with Los Angeles-based Spectrum news in October 2020.
"Where you're from, it tells you what you're about," Campa-Najjar told Spectrum as a candidate for Congress. "And you know, I was born and raised in East County. I'm a 'Jamuligan'," he added.
Campa-Najjar explained in that interview that he was raised by a single mother, worked to pay his way through college, and was able to go "beyond my zip code".
"And then I got to live beyond my wildest dreams—beyond my zip code, 91935—which for many people of color is not usually the case. Sometimes your zip code determines your destiny."
The 91935 ZIP code he referenced is in Jamul, where his mother and step-father live.
"But despite that, I was able to leave Jamul temporarily and go to Washington D.C.," Campa-Najjar claimed in 2020.
During his 2020 campaign against former-Congressman Darrell Issa, Campa-Najjar contrasted himself by criticizing Issa as a "carpetbagger" for having run in two different districts.
"The difference between me and my opponent is I know the 50th [Congressional District] and the 50th knows me. We know Darrell. He cut and run from a district, and I've doubled down," Campa-Najjar said at the time about running in the East County district.
But that narrative was much different than the story he told the San Diego Union-Tribune last month during an interview about his Chula Vista campaign.
Campa-Najjar told the SDUT that he has lived in Chula Vista for "20 years".
"I live in Eastlake in the same home dating back 20 years," he told the SDUT last month. "Now I'm on San Miguel Road in the same home I've had for 20 years."
And he used a similar line about ZIP codes and destiny as he did two years earlier, except this time he changed the City to suit his new campaign.
"Before my grandfather died, he told us to sell our childhood home in west Chula Vista and move to east Chula Vista. My grandfather observed a tragic reality — that in Chula Vista, as in much of America, your ZIP code determines your destiny."
The Chula Vista address Campa-Najjar is using was his grandmother's condo where he claims he lived before moving to work in Washington, DC, after college.
He now admits his grandmother no longer lives there, and the unit is owned by his cousin, Bianca Rzeslawski, a local real estate agent.
Campa-Najjar says an aunt, uncle, and another cousin live in the condo now, and that he moved back there in late 2020 after losing his second congressional campaign.
"It's my forever home," Campa-Najjar told La Prensa San Diego in April of this year.
San Diego County Registrar of Voters records list eight people registered to vote at that address, including Campa-Najjar; his younger brother, Mohammad; his mother, Abigail Najjar; his grandmother, Abigail Campa; two aunts, an uncle, and a cousin.
Campa-Najjar admits that his mother and grandmother do not live at that same address.
But beyond the political ramifications of using the address, Campa-Najjar's admission may create legal jeopardy for some of his relatives because all of them, except for his brother, voted in the June 7th Primary Election using the Eastlake condo address.
The documents Campa-Najjar provided this week do not definitively prove he actually lived or lives at the Eastlake condo, but they do raise questions as to whether he, and some of his relatives, committed voter fraud by casually using different addresses for voting purposes.
If any of the relatives who use the same Eastlake condo address for voting purposes actually cast votes but do not live there, that could constitute voter fraud and perjury. Similarly, if Campa-Najjar did not actually live in Jamul during his congressional campaigns when he voted there, he would have committed voter fraud and perjury as well.
Under state elections law, casting a vote using an address where someone does not live would constitute voter fraud, and could be charged as a felony with sentences of up to three years in prison per violation.
Campa-Najjar's two consecutive driver's licenses only show the Eastlake address and not the Jamul home he claims was his residence between 2017 and 2021.
None of the documents Campa-Najjar provided this week would suggest he actually lived in Jamul during the four times he voted from that address in 2018 and 2020 while he was a candidate for Congress.
Establishing one's residence for voting purposes includes using the address for driver's licenses, utility bills, and other factors.
Living in San Diego
McCann held a press conference outside of Jacobs' San Diego condo on September 27th to announce the investigator's findings. The former FBI agent released pictures of deliveries left at Jacobs' condo which were addressed to Campa-Najjar, including Amazon food deliveries and even a box of toilet paper. One package on August 11th is addressed to "AJ", a nickname Campa-Najjar uses based on the initials of his first and middle names, Ammar Joseph.
Security camera videos also showed Campa-Najjar driving into and out of the underground parking lot in Jacobs' Tesla, as well as him coming and going through the elevators.
On September 9th, videos show Jacobs' and Campa-Najjar leaving the condo together with him pulling a suitcase, then he returned alone less than an hour later and went up the elevator to her condo for the night.
The next day, Campa-Najjar and his brother, who was visiting San Diego for the weekend, arrived at Jacobs' condo and left together the next day after having slept at her condo when she was out of town.
The investigator also released a certified document from the US Postal Service showing that the San Diego address is a registered address where the USPS currently delivers mail to Campa-Najjar.
USPS document confirms
deliveries for Campa-Najjar
at Jacobs' San Diego address
Voting Laws vs Candidate Requirements
The rules for running for office and the laws regulating voting are related but separate.
Everyone who registers to vote is required to actually live at that address, and cannot use temporary or relatives' addresses to establish a voting address. Violations of state elections laws can be charged as misdemeanors or felonies.
Candidate requirements to run for office vary depending on the office sought, but for local elections, candidates must live within the city limits when they file to run for office. In most cases, moving from the elected officials' boundaries would immediately disqualify them from continuing to hold office.
Campa-Najjar ran for Congress in 2018 and 2020 where candidates are only required to live within the state, not their own district. Although he was not legally required to live in the East County to run for the 50th District, Campa-Najjar used his mother's home address in Jamul as his official address as a candidate as well as for his voter registration.
Political officials who have been charged under similar circumstances were accused of violating state elections laws for voting from an address where they were not qualified to vote, and for perjury for falsely signing voter registration applications under penalty of perjury stating they lived at the address.
In 2010, Los Angeles State Senator Roderick Wright was charged with felony perjury and voter fraud when he changed his address for voting to run for election in a certain district. State legislative candidates must live in the district they represent.
Wright was convicted in 2014 and banned from ever holding public office. He was forced to resign his State Senate seat immediately.
In March of this year, a county sheriff in Northern California resigned after he was charged with felony voter fraud for filing false candidate and voter registration forms using a non-permanent address.
Voting for the Mayor of Chula Vista is already underway for the November 8th election.
Correction: a previous version of the story incorrectly stated a video of October 9 showed Campa-Najjar and Jacobs leaving her condo together and him returning alone, but it was September 9.