High Noon along the U.S./Mexico border?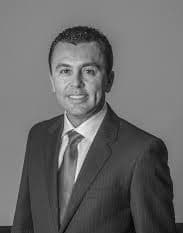 Arturo Castañares
Created: 18 March, 2011
Updated: 20 April, 2022
Frontera NorteSur
Mexico-US border police chiefs were at the top of the news in recent days. In a bitter twist to an almost fairytale story that captured the imagination of the US and Mexican press, the 20-year-old police chief of a small town in the blood-soaked Juarez Valley, Marisol Valles, fled to the US seeking political asylum last week.
Only days later, on March 10, US federal agents swept into the border town of Columbus, New Mexico, arresting Police Chief Angelo Vega along with the town's mayor and other suspects. Jailed in southern New Mexico on gun-running charges, the defendants are accused of engaging in the type of cross-border commerce that has reaped death and destruction in the Juarez Valley and other parts of Mexico during the past few years.
In the midst of these and other upheavals that keep jolting the borderlands on a daily basis, a tough-talking stranger arrived in Ciudad Juarez to turn around the Mexican city's disastrous security situation. He is Lt. Col. Julian Leyzaola Perez, a retired Mexican army man who comes to Ciudad Juarez after a long and controversial career in the military and law enforcement.
Already, criminal elements are openly challenging Ley-zaola. On Saturday, March 12, a man was found murdered along with a "welcome" note purportedly signed by the Sinaloa drug cartel.
As the new director of public safety, Leyzaola will be oversee the municipal police force, transit cops and the troubled city jail, which has a long history of drug trafficking and violence.
He takes the helm at another milestone moment in Ciudad Juarez's history. According to the homicide count maintained by New Mexico State University Researcher Molly Molloy, March 10 saw the 8,000th murder in Ciudad Juarez since all-out war erupted between the Sinaloa and Juarez cartels in January 2008.
Leyzaola has experience running prisons, but it is his 2008-2010 stint as Tijuana's police chief that won the Sinaloa native international fame. Members of the Tijuana business community credit Leyzaloa for purging a corrupt police force, reducing crime and permitting the return of night life.
In an interview with a Mexican reporter last fall, Leyzaola said he walked onto the job only to discover that members of the Tijuana police force were divided into two camps that supported warring factions of the Arellano Felix crime family.
"Here on the police force, it was a status symbol to belong to one of the groups," Leyzaola said. The no-nonsense military veteran's campaign to cleanse the police force paid off to a reasonable extent, said Mario Escobedo, president of the Tijuana Chamber of Commerce. Escobedo acknowledged that problems did not vanish under Leyzaola, but added the police force was headed in an "adequate" direction.
Dr. David Shirk, director of the University of San Diego's Justice in Mexico program, noted that Leyzaola's tenure in Tijuana coincided with a purported truce between the Sinaloa and Arellano Felix cartels that curbed much of the violence between the rival groups. According to US demographers Richard Rhoda and Tony Burton, Tijuana ranked number four in regards to homicide rates in Mexican cities from 2006 to 2010.
Leyzaola has confronted accusations that his clean-up was accomplished by torturing suspected corrupt officers. In this connection, multiple human rights complaints against the Tijuana police commander and Mexican military were heard by the Baja California state human rights commission, the Washington, D.C.-based Inter-American Commission on Human Rights, the United Nations, the European Union and the Canadian government.
Last year, while Leyzaola was still police chief, Tijuana human rights activists Blanca Mesina and Silvia Vazquez fled to the US after receiving death threats. In May 2010, a masked man dressed in black reportedly stopped Mesina and warned her to stop speaking out or she would lose a family member.
Leyzaola has challenged his critics to prove the torture charges, contending the complaints stem from criminals out to conceal their crimes and smear a dedicated professional's character.
"At least in Tijuana, the people are satisfied, because we gave tranquility back to them," Leyzaola was quoted. "As always there are criticisms, but criticisms from people who have wound up in jail."
In other controversial actions, Leyzaola prohibited the popular musical combo Los Tucanes de Tijuana, a group known for its narco-corridos, from playing in Tijuana.
The Tijuana police chief warned the nortena artists, as well a singer known as El Halcon de la Sierra (later found murdered in Chihuahua), he would arrest them all if they dared so much as to show their faces on the streets. Asked by a journalist if he had the right to order such measures, Leyzaola replied that he could at least detain the celebrities and treat them as law-breakers.
In justifying his legal threats, Leyzaola accused the musicians of being sponsored by the Arellano Felix family, and contributing to the glorification and legitimization of a criminal mythology.
"All this foments a culture, a narco-culture," Leyzaola said. "I call it a subculture." After the retired colonel departed the Tijuana police force, Los Tucanes' signer Mario Quintero said he looked forward to performing again in the border city.
"We are the first group in history, at least in Mexico, which was prohibited from playing openly in Tijuana," Quintero said. "As far as I know, no other group was prohibited from playing."
In the political realm, Leyzaola has drawn praise from both Mexican President Felipe Calderon and US Ambassador to Mexico Carlos Pascual. Ciudad Juarez Mayor Hector "Teto" Murguia said the ex-Tijuana police chief's appointment as his city's top cop came with the blessing of Calderon.
But Raul Ramirez Bahena, director of the Northwest Citizens Human Rights Commission in Baja California, blasted the Leyzaola appointment as an affront to human rights concerns. Soldiers like Leyzaola, Ramirez asserted, simply do not have the preparation to carry out crime prevention work.
A former Baja California human rights ombudsman, Ramirez added that it was "incredible" Mayor Murguia, in his appointment of Leyzaola, brushed aside rights considerations and ignored official recommendations concerning the colonel's actions that were made by the Baja California Attorney General for Human Rights and National Human Rights Commission.
In a written statement, Ramirez contended the Ciudad Juarez appointment merely "reproduces" the strategy pursued by President Calderon of militarizing policing and continuing a "personal war against drug trafficking" that's "already cost more than 36,000 collateral damages (lives)."
In his first public remarks as the newly-appointed head of public safety in Ciudad Juarez, Leyzaola declined to outline a security plan for the embattled city, adding he did not want to "tip the hand" of the enemy.
Working in close coordination with the Mexican army, Leyzaola's tactics in Tijuana included recovering high profile tourist areas, limiting the mobility of armed bands and seizing safe houses.
How human rights figures into Leyzaola's management in Ciudad Juarez will be a critical question. Like Tijuana, Ciudad Juarez is also a no-man's land, or no-woman's land if you will, for human rights.
Frontera NorteSur: on-line, U.S.-Mexico border news Center for Latin American and Border Studies New Mexico State University Las Cruces, New Mexico